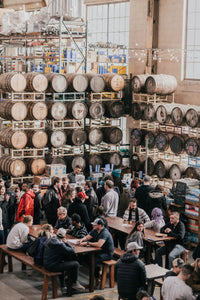 VISIT THE CIDER HOUSE
DOWNEAST CIDER HOUSE TAPROOM
256 MARGINAL STREET, EAST BOSTON, MA 02128
HOURS
MON-WED: CLOSED
THU-FRI: 5PM - 9PM
SAT: 11AM - 8PM
SUN: 12PM - 7PM
PLANNING A VISIT?
The Cider House is where we research, develop, produce, and package all of our cider. Thursday through Sunday, we turn the middle of our production floor into a taproom and open it to visitors. We are 21+ and visitors must have ID's to enter.

Our Cider House Taproom is a unique experience and you should read through the rest of this page and/or our FAQ page to know what to expect ahead of your visit.

We offer one tasting flight per person, per day. Each flight comes with 4 flavors and with 12 rotating taps, you can choose all your faves or be one of the first people to test a brand new, taproom-exclusive flavor that may or may not hit the market someday. Afterwards, be sure to grab some Downeast merch and stock up on cans, growlers, or even kegs to take home with you. In the summertime, it doesn't have to end there–head over to our pop-up cider garden located across the shipyard parking lot and enjoy full pours on tap or a freshly cracked can while you watch the best view of the sun dipping below the Boston skyline.
WHAT TO KNOW BEFORE VISITING 
WE ARE A 21+ FACILITY.
at both the cider house / taproom and our outdoor pop-up, all members in your party (yes, even your dd!) must show an ID to enter, no exceptions.
FIRST COME, FIRST SERVED.
we do not take reservations, we seat parties as they arrive. 
WEEKENDS ARE BUSY. EXPECT A WAIT.
saturdays and sundays are our busiest days. we have limited seating and no standing room. wait times vary but can be anywhere from 5 to 55 minutes during peak hours. we do our best to turn tables over but ask for your patience. 
YOU WON'T BE SAT TIL YOUR WHOLE PARTY ARRIVES.
leave your chronically late friends out of these plans. on busy days and when we have a line, we cannot seat you until your whole party is physically there with you ("they are parking" doesn't count, we gotta see them for ourselves). parties arriving at separate times seriously impacts our ability to keep the line moving and causes longer wait times. once you are sat, we cannot seat new people at your table. please plan for your party to fully arrive before hopping in line.

if the season is right and our outdoor pop-up is open, it's a great place to grab a cider and hang out while you wait for your crew! 
PARTY SIZE MATTERS.
we always try our best to accommodate but due to limited seating, we cannot guarantee that groups of 7+ can be sat all together. 
groups with 10+ cannot be accommodated unless we split the group up and seat you separately. 
KIDS AND BABIES ARE NOT TAPROOM FANS.
we love kids. but they don't really love us and to be honest, we get it. our floors are concrete, we have no food, no non-alcoholic beverage options, and no ball pits. everyone in the cider house must be seated–and with lots of fancy cider-making machinery, ingredients, and chemicals around, we cannot allow children (or adults, for that matter) to be wandering, toddling, or running around. that being said,  if your kid is 10 years old or younger, we won't make them wait outside or anything like that, we just ask that they are seated or in your arms while visiting. 
WE DO NOT OFFER TOURS.
tours kinda boring anyway. who wants to be wearing close toed shoes and safety goggles when you can just sit at your table with a view of the whole thing? seriously, our taproom is in the middle of it all and the walk to the bathroom is essentially a self-guided tour of our entire production line.
but if that's not enough for you and you're interested in seeing it all in action, visit us on a thursday when our cider production and packaging is fully operational and you can sip your flight while watching our next flavor get canned right before your eyes.
QUESTIONS ABOUT GROWLERS? EVENTS? SOMETHING ELSE?
please check our full list of faq's for more information.
UPCOMING EVENTS AND CLOSURES
THU. 11/23: CLOSED for thanksgiving
SUN. 12/24: CLOSED for christmas eve
THU. 1/11: HOURS CHANGE, open 6pm - 9pm
FRI. 1/12: CLOSED for our annual company holiday party


follow us on instagram @downeastcider for more info on events, closures, and changes in our hours.